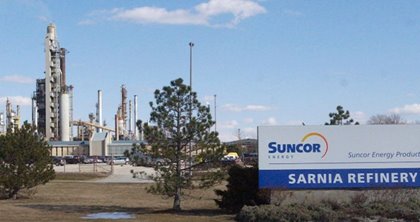 The Genesis Project, awarded to Bantrel in 2003, was a multiyear overhaul of Suncor's Sarnia refinery. Bantrel provided EPCM services for this $960-million project, the largest desulphurization job in Ontario's Chemical Valley in 30 years. This included the design, construction, commissioning and start-up of a 44,000 bpsd diesel hydrotreater, common facilities and substation. Bantrel was also responsible for engineering coordination with the sulphur plant and the amine/sour water engineering and procurement (EP) contractor.

Bantrel's scope of work included project procurement (grassroots, software system and expediting support to the other EP contractors), grassroots project controls management and grassroots quality management.

Bantrel's portion of the Suncor Genesis project was completed in advance of new Canadian regulations limiting sulphur in diesel fuel. Bantrel achieved the successful mechanical completion and start-up of our scope of work in July 2006.
Services Provided
Engineering
Procurement
Construction Management
Completed By
Bantrel Constructors Co.
Bantrel Co.