Bantrel self-performs all major aspects of EPC planning, design, procurement, and execution. We differentiate ourselves in the competitive environment by self-performing and controlling your project's critical path, assembling a team with operability, maintainability and constructability expertise, and overlaying our proprietary systems and tools that aid transparency and collaboration. This approach de-risks your project and provides predictable and consistent results.

"EPC integration" starts with engineering, operations, maintenance, and construction collaboration at the earliest concept stages of a project and carries right through to commissioning and start-up. Our integrated approach improves client performance and return on capital investments, as our delivery model allows direct access and control of resources required for projects while minimizing third-party interfaces.
EPC Sustaining Captial
A unique and innovative sustaining capital program that integrates portfolio management and EPC execution methodology. We manage your entire sustaining capital portfolio from front end design through detail engineering into procurement, culminating in construction, and pre-commissioning activities.
By managing the entire project lifecycle, Bantrel can achieve results not realized in traditional sustaining capital models. Risk is managed through the entire project, at the appropriate milestone, and not passed to subsequent phases. Our gated process results in a cost-effective execution that maximizes value and minimizes inefficiencies caused by multiple interfaces and competing objectives.
A typical portfolio consists of 40 to 80 projects in various stages of development and execution. The sustaining capital program targets a portfolio of projects under $20M with the majority being in the $1M to $2M range.

EPC Major Projects
Understanding where you are at all times makes for good management. Real time reporting and data transparency is the cornerstone of our integrated EPC delivery model. Our system and tools promote early input from operations, maintenance, engineering, procurement and construction keeping all stakeholders informed and focused on early issue identification and resolution.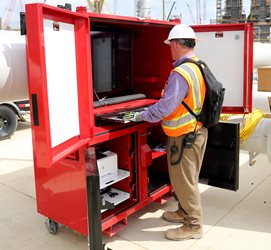 Real time field productivity using our proprietary Quantity Unit Rate Report (QURR), field proven integrated workface planning methodology and commodity tracking through the EPC cycle combine to provide you with industry leading results.

We bring these tools to the field in our Data Vault field workstation that provides for seamless communication at the workface. This innovative tool provides construction with digital access to all information necessary to do their jobs. It also provides the ability to communicate with engineering at the workface to collaboratively resolve issues

Good planning and good information are the essential ingredients to maintain a safe and productive workforce.