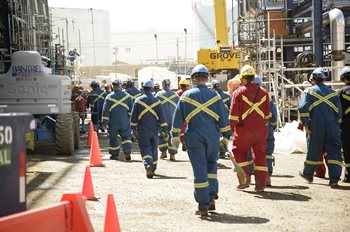 As an extension of Bantrel's work on the Edmonton Diesel Desulphurization Project, Bantrel was awarded the 2004 Turnaround at the Petro-Canada Edmonton Refinery. In 2004 the Turnaround included removal, modification and replacement of pumps and compressors, reactor tray replacement, 654 piping tie-in points, control room and substation modifications, installation of 3,200 LF of new piping.
Subsequently Bantrel was awarded the 2006 Turnaround which included installation of 10,000 linear feet of new piping, 1,172 piping tie points modification of internals for 13 towers and reactors, replacement of 3 flare stack tops, demobilization of 2 hydrogen feed furnaces and replacement with 1 new pre-assembled furnace, replacement and installation of 4,075 instrument tags, upgrade of 22 pieces of rotating equipment, and modification and installation of 39 process heat exchangers.

Bantrel was also awarded the 2008 Turnaround which included services for the grassroots construction and revamp of existing facilities for diesel desulphurization. Inclusive of a 44,000-bpd diesel hydrotreater, SRU, TGTU, sour water stripper, amine unit and associated U&O. The project was completed in 570,000 hours.
Services Provided
Engineering
Procurement
Construction
Completed By
Bantrel Constructors Co.
Bantrel Co.