Since 1983, Bantrel has been an industry leader in delivering safe, dependable, high quality services and facilities which advance the sustainability objectives of our Clients in our communities. This includes sustaining capital helping facilities to operate safely and projects to meet new regulations, conserve energy and reduce emissions.
Our cornerstone is our People. Bantrel's culture is one of inclusivity, respect and ethical behaviour. Our teams strive to consistently deliver to our stakeholders' expectations through collaborative relationships, solid governance and progressive innovation. We have achieved gains across the sustainability spectrum - growing our people, services and capability without sacrificing our safety and quality fundamentals.
Some of Bantrel's past sustainability highlights include:being the first EPC in Canada to earn ISO 9001:1994 certification and the first EPC to receive the Quality Award from the Quality Council of Alberta; branching the EPCM organization into self-performing full EPC services with our construction affiliates; recognition through PetroCanada's inaugural President's Award for Safety on our first direct-hire EPC program, achieving a milestone of over 5.5 million field hours without a lost time injury; establishing additional offices supporting multiple market segments; successfully executing many clean fuel, water conservation and emissions reduction projects; creating a legacy of staff that have built their careers with Bantrel, forging strong relationships and resiliency along the way; paying it forward, through individual and corporate donations of both time and money, to the communities in which we work. Highlights include over $6.8MM to United Way and other programs and volunteerism at events including those for the Cancer Society, MS Society and Heart and Stroke Foundation.
We have a proud history of amazing people contributing in important ways and we have told parts and pieces of this story in the past.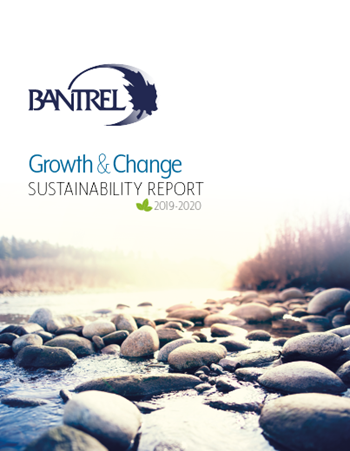 Sustainability Report 2019-2020
Bantrel's inaugural Sustainability Report, captures both highlights from our past and goals for our future. Our Sustainability Report, themed Growth & Change, is a bridge to celebrating our past and focusing on the future.